In Service of the Honeybee
Our consciously cultivated honeybee sanctuary promotes sustainable and biodynamic beekeeping to help restore the health and vitality of the honeybee worldwide.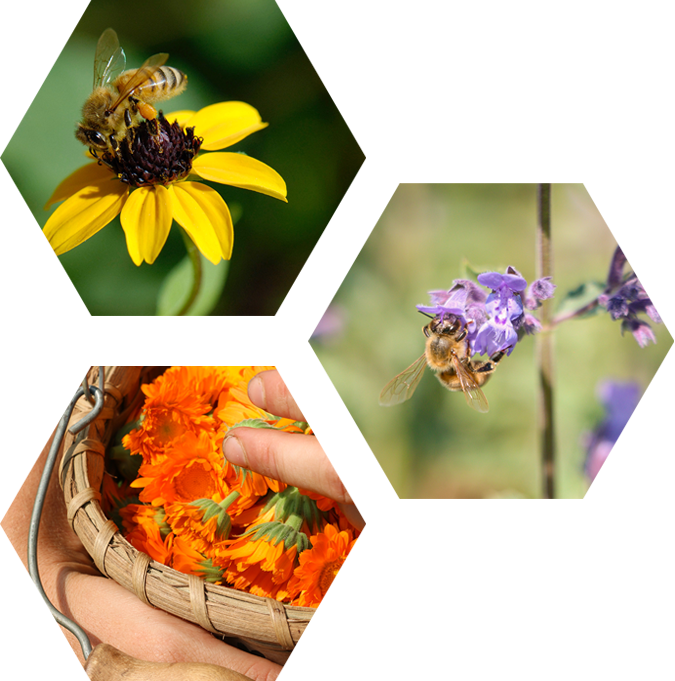 Our 41 acre sanctuary is located on the banks of the Little River in the beautiful Blue Ridge Mountains of Floyd, Virginia on traditional Tutelo lands.  Since arriving here in 2008, we have developed an abundantly flowering biodynamic landscape, rich with sources of nectar and pollen which enhance the nutrition and health of the honeybees and native pollinators and support the thriving of our diverse agricultural ecosystem.
The Human - Honeybee Partnership
Who are the honeybees? What do they need? How can we serve them? These are the central questions that help guide our work in service of the honeybee and healing the human-honeybee partnership.  A heart-centered sanctuary approach naturally arises from deep devotion to the needs of the honeybees and is built upon the long-standing and successful biodynamic beekeeping principles and methods which we continue to practice, develop, and share.
Find A Class
Explore live webinars, recordings, and in-person opportunities
Gather Products
Shop sanctuary-made salves, beeswax wraps, books, and more
Donate
Help us restore the health and vitality of the honeybee worldwide
Apprenticeship Opportunities
The Spikenard Apprenticeship is an immersive experience-based work opportunity to learn with the bees at our Honeybee Sanctuary located on 41-acres in the beautiful Blue Ridge Mountains. Spikenard is home to 25-40 bee hives, diverse flower gardens, a vegetable patch, fields of blooming cover crops, orchard, woods, and pastures. The daily work of the Farm Manager and Apprentices is to tend to the farm with bee-centric intention and diligent care.
Spikenard Friends & Community